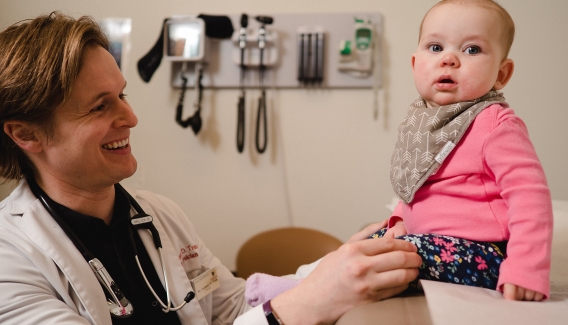 Phone/Video Appointments Encouraged
To adhere to the critical need to practise social distancing in the wake of COVID-19, we strongly encourage that as many patient appointments as possible occur over the phone or through an Ontario Telemedicine Network (OTN) video visit. Patients who are returning from outside of Canada must self-isolate for 14 days and monitor for symptoms of COVID-19, so appointments with these patients must take place over the phone or via video. 
Easy- to-follow Instructions for Video Appointments:
QFHT patients participating in OTN video visits can use this simple how-to guide to download the system on your computer or install the app on your device, so you're ready to go at your e-appointment time with us. (Thanks to Stewart Medicine for this valuable resource.)
Or, watch this video that explains the same process.
Want to learn how to make the most of your health-care appointment? Click here to learn about online webinars being offered by Living Well South East Ontario.  
After Hours Clinic
Effective Monday, March 30, walk-in patients are no longer seen at our after hours clinic. 
During the COVID-19 pandemic, patients needing after-hours care will be required to call us at 343-884-7780 and leave a message as directed. Please note: We are only checking messages on this phone line during after-hours clinic hours: Monday-Thursday: 5 p.m. to 8 p.m. and Saturday from 1 p.m. to 4 p.m.) If you leave a message outside of these hours, these messages will not be heard and will be deleted.) 
After receiving your message during regular after-hours clinic hours, our nursing staff will call you back for further assessment. Based on the nurses' assessment, you will either be asked to visit the clinic at a scheduled time, or a telephone or video appointment with a physician will be scheduled.
If you are calling outside of regular after-hours clinic hours, please call our usual phone number (613- 533-9303) to be connected with the on-call physician. 
If you visit our clinic:
Have you been outside Canada within the last 14 days?
Have you been in close contact with a case of COVID-19?
Do you have a fever, cough, or shortness of breath?
If you answered yes to ANY of these questions, STOP! Do not enter the building.
Instead, go to the assessment centre located at the Memorial Centre, 303 York. St. The centre is open daily from 10 a.m. to 8 p.m.
If you answered NO to ALL these questions, please clean your hands as soon as you enter the building.
If you have questions, please call us at 613-533-9303.
Welcome to the
Queen's Family Health Team 
As a patient in the Queen's Family Health Team (QFHT) academic clinic, your care will be delivered by our skilled interprofessional health-care team.
Your primary health-care provider is your family physician, who works closely with our resident physicians (residents). Residents are medical doctors who must complete two years of family medicine residency before they become independent practitioners in family medicine. Medical residents provide care to patients under the direction and supervision of your family doctor. Our medical residents, who join the team each July, bring a fresh perspective, keeping us at the forefront with the latest medical information and technologies.
In addition to our faculty physicians and resident physicians, the QFHT includes nurse practitioners, registered nurses, registered practical nurses, social workers, dietitians, a pharmacist, and other support staff who work together to provide primary health care. As part of our affiliation with Queen's University and St. Lawrence College, we are an Ontario Ministry of Health and Long-Term Care-funded training site for students in medicine, nursing, pharmacy, dietetics, and clerical/administration. Together, we ensure our patients receive the care they need, and connect them with our health-care partners/agencies.
New programs and services are developed and introduced to address patient needs. Visit our Programs and Services page for more information. Patients may also be referred to programs offered through our collaboration with community partners.
We welcome your feedback on how best to support your health and well-being. Email us at info@dfm.queensu.ca. 
To you in good health. 
Dr. Karen Hall Barber
Lead Physician   
Diane Cross
Clinic Manager