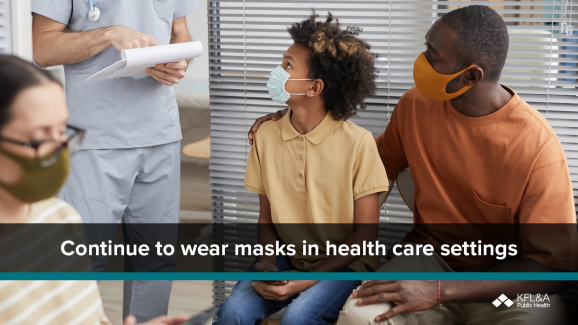 FACE MASKS STILL REQUIRED
The Queen's Family Health Team still requires anyone who enters our buildings (115 Clarence St. and 220 Bagot St.) to wear a face mask. Unless you are asked to remove your mask for purposes of your medical appointment, you will be required to keep your mask on for the duration of your visit with us. Patients who do not wear a mask will be required to have virtual appointments. This continued mask mandate follows an Ontario Ministry of Health directive for primary-care health settings. 
CLINIC CHANGES JULY 1, 2022
On July 1, 2022, Queen's Family Health Team (QFHT) will welcome several new physicians. To accommodate these additions, some patients will have a new physician while others will continue to see their existing physician at a new location within the two QFHT buildings, 220 Bagot St. and 115 Clarence St. Patients whose physician has moved or is changing have been notified.
Click on the following links to our clinic and physician changes and new physician contact list. Thank you for your understanding as we strengthen our team!
AFTER HOURS CARE
During the COVID-19 pandemic, the Queen's Family Health Team will not be providing any walk-in appointments in the after-hours clinic. PLEASE DO NOT visit our after-hours clinic in person unless our on-call team has directed you to do so.  
Patients who require urgent after-hours care MUST call 613-533-6563 during after hours clinic hours ONLY and leave a message requesting an appointment. The hours are: Monday-Thursday: 4:45 p.m. to 7:30 p.m.; Saturdays from  8:45 a.m. to 11:30 a.m. and 12:45 p.m. to 3:30 p.m.; and Sundays from 8:45 a.m. to 11:30 a.m. We are only checking messages on this phone line during after-hours clinic hours. We are only checking messages on this phone line during after-hours clinic hours.  If you leave a message outside of these hours, these messages will not be heard or reviewed. 
After receiving your message during regular after-hours clinic hours, our nursing staff will call you back for further assessment at their first opportunity. (Please be patient with us. Your return call might not be right away, but we WILL get back to you first chance we get!) Based on the nurses' assessment, you will either be given a telephone (or video) appointment or you will be directed to visit the clinic in person (location: 115 Clarence St.). You may be directed back to your usual physician team if the issue is not best managed in the after hours clinic. 
If you are calling outside after hours clinic hours, The Ministry of Health and Long-Term Care's Telephone Health Advisory Service is available at 1-866-797-0000 Monday to Thursday from 5 p.m. to 9 a.m. and around the clock weekends from 5 p.m. Friday to 9 a.m. Monday. 
BEFORE YOU CONTACT THE AFTER HOURS CLINIC 
▪ Are you a patient of the Queen's Family Health Team?  The after-hours clinic provides care to patients of the Queen's Family Health Team only.
▪ Have you spoken to your home team's receptionist or nurse?  There are times when your daytime physician team clinic can fit you into their clinic.
▪ Have you called the Telephone Health Advisory Service? This service puts you in touch with a registered nurse who can provide after-hours telephone health advice for patients who are enrolled with a family health team. They can be reached at 1-866-553-7205.
▪ Narcotics and controlled prescriptions will not be refilled at the after hours clinic.
▪ If you are in crisis and need immediate mental health care, please go to the nearest emergency department or call the crisis line at 613-544-4229. 
WHO SHOULD USE THE CLINIC? 
If you have new, worrisome symptoms, a sick child, or worsening of a chronic medical condition that you feel cannot wait until a routine appointment with your family physician, you will be assessed. However, your visit in the after hours clinic is not meant to replace the complex and continuing care that your family doctor and home team can provide. Remember, the after hours clinic is meant to provide care to patients of the Queen's Family Health Team for urgent, non-life-threatening problems only. 
THE CLINIC CANNOT HANDLE LIFE-THREATENING EMERGENCIES 
If you have chest pain; you think you are having a stroke; or you have heavy bleeding, fractures, severe allergic reactions or trouble breathing, call 911 immediately or go directly to the nearest emergency department. 
GENERALLY, YOU WILL NOT BE SEEN FOR THE FOLLOWING: 
▪ regular prescription renewals
▪ problems that are best suited for your home team to manage
▪ results of lab tests or procedures
▪ forms to be completed, work notes for absences due to illness (if exception is made, there may be a charge)
▪ requests for referrals, procedures or for appointments with your own doctor.  
If you visit our clinic:
In accordance with a Section 22 order from KFL&A Public Health, all patients who visit our clinic are required to wear a face covering. If you do not have one when you arrive, we will provide you one, and ask that you bring one to your next visit. Read FAQ about face coverings on the KFL&A website here.
When you arrive at the QFHT, you will be asked:  
1. Do you have any of these symptoms:
•      Fever and/or chills
•      New onset of cough or worsening chronic cough
•      Shortness of breath
•      Decrease or loss of sense of taste or smell
•      If adult >18y of age: unexplained fatigue/lethargy/muscle aches
•      If child <18y of age: nausea/vomiting, diarrhea
2. Have you tested positive for COVID-19 in the past 10 days or have you been told you should be isolating?
3. Have you travelled outside of Canada in the past 14 days?
4. Have you had close contact with a confirmed case of COVID-19?
If you answer yes to any of these questions, a nurse will assess you to determine next steps in your care plan.
Please Note: Only our patients are permitted inside the clinic. Spouses and others who wish to accompany patients are not permitted. Exceptions are a parent with a child; or a support person for a patient who is frail, has dementia or an intellectual or developmental disability, or requires translation.
Queen's Family Health Team 
As a patient in the Queen's Family Health Team (QFHT) academic clinic, your care will be delivered by our skilled interprofessional health-care team.
Your primary health-care provider is your family physician, who works closely with our resident physicians (residents). Residents are medical doctors who must complete two years of family medicine residency before they become independent practitioners in family medicine. Medical residents provide care to patients under the direction and supervision of your family doctor. Our medical residents, who join the team each July, bring a fresh perspective, keeping us at the forefront with the latest medical information and technologies.
In addition to our faculty physicians and resident physicians, the QFHT includes nurse practitioners, registered nurses, registered practical nurses, social workers, dietitians, a pharmacist, and other support staff who work together to provide primary health care. As part of our affiliation with Queen's University and St. Lawrence College, we are an Ontario Ministry of Health and Long-Term Care-funded training site for students in medicine, nursing, pharmacy, dietetics, and clerical/administration. Together, we ensure our patients receive the care they need, and connect them with our health-care partners/agencies.
New programs and services are developed and introduced to address patient needs. Visit our Programs and Services page for more information. Patients may also be referred to programs offered through our collaboration with community partners.
We welcome your feedback on how best to support your health and well-being. Email us at dfm-qfhtinfo@queensu.ca
To you in good health. 
Dr. Susan MacDonald
Lead Physician   
Diane Cross
Clinic Manager