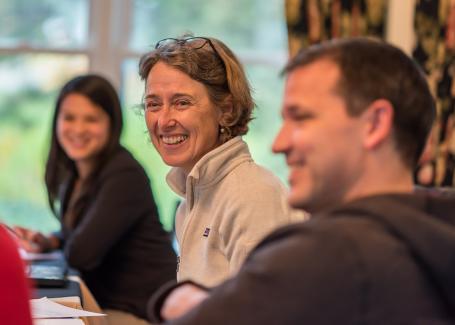 Faculty Development supports faculty members in their roles as teachers,
researchers/scholars and administrators/leaders.
Site Leads    
Kingston/Thousand Islands: Dr. Matthew Simpson - matt.simpson@dfm.queensu.ca
Belleville/Quinte: Jessica Ladouceur - jessica.ladouceur@dfm.queensu.ca
Peterborough/Kawartha: Natalie Whiting 
Oshawa/Lakeridge: Sina Sajed - sina.sajed@dfm.queensu.ca
UPCOMING EVENTS
Queen's Family Medicine Day 2019 (Kingston) 
Friday, September 13, 2019
8 a.m. to 4 p.m. 
Four Points by Sheraton
285 King St., E., Kingston
Click here for more information and to register.
Visit CPD and Faculty Development for more Queen's Faculty of Health Sciences events and activities.
The Learner in Difficulty (McMaster PBSG-ED Module)
Wednesday, September 25, 2019
12:15 p.m. to 1:15 p.m.
Haynes Hall, 115 Clarence St., Kingston, Basement Boardroom 
Click here for more information.
Resources
Problem Based Small Group Learning modules – Education (available from Faculty Development Site Leads – see above)
Announcements: 
Dr. Ingrid Harle has been named Director, Faculty Development for Queen's Health Sciences
Welcome to Dr. Ruzica Jokic, Assistant Dean, Distributed Medical Education, Queen's Health Sciences