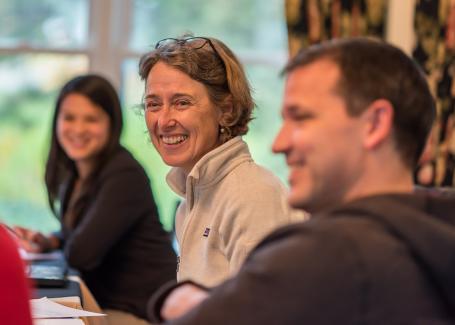 Faculty Development supports faculty members in their roles as teachers,
researchers/scholars and administrators/leaders.
Site Leads    
Kingston/Thousand Islands: Dr. Matthew Simpson - matt.simpson@dfm.queensu.ca
Belleville/Quinte: Dr. Jessica Ladouceur - jessica.ladouceur@dfm.queensu.ca
Peterborough/Kawartha: Dr. Theresa Robertson - theresa.robertson@dfm.queensu.ca
Oshawa/Lakeridge: Dr. Sina Sajed - sina.sajed@dfm.queensu.ca
Upcoming Events
Date:  Wednesday, December 11, 2019
Time:  12:15 p.m – 1:15 p.m.
Location:  Haynes Hall Basement Boardroom
Topic:  "Developing Professionalism in our Learners" (McMaster PBSG-ED Module)
Facilitated by:  Dr. Matt Simpson
This session will help clinical teachers:
 Recognize the contextual nature of professional behaviour and the pivotal role of clinical teachers in the development of professionalism among their learners.

 Provide educationally appropriate opportunities for learning the principles of professionalism in a clinical setting. 

 Develop effective strategies for dealing with unprofessional behaviours of learners during a clinical placement. 

 
Please RSVP to tammy.parr@dfm.queensu.ca by Thursday, December 5, 2019
Resources
Problem Based Small Group Learning modules – Education (available from Faculty Development Site Leads – see above)
Announcements: 
Dr. Ingrid Harle has been named Director, Faculty Development for Queen's Health Sciences
Welcome to Dr. Ruzica Jokic, Assistant Dean, Distributed Medical Education, Queen's Health Sciences