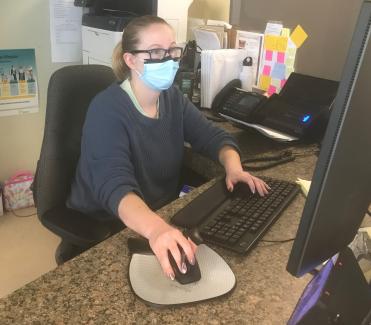 The Queen's Family Health Team is NOT accepting new patients. Please contact Health Care Connect at ontario.ca/healthcareconnect
Face Masks Still Required
The Queen's Family Health Team still requires anyone who enters our buildings (115 Clarence St. and 220 Bagot St.) to wear a face mask. Unless you are asked to remove your mask for purposes of your medical appointment, you will be required to keep your mask on for the duration of your visit with us. Patients who do not wear a mask will be required to have virtual appointments. This continued mask mandate follows an Ontario Ministry of Health directive for primary-care health settings.  
Clinic Changes 
Queen's Family Health Team (QFHT) recently welcomed several new physicians. To accommodate these additions, some patients will have a new physician while others will continue to see their existing physician at a new location within the two QFHT buildings, 220 Bagot St. and 115 Clarence St. Patients whose physician has moved or is changing have been notified.
Click on the following links to our clinic and physician changes and new physician contact list. Thank you for your understanding as we strengthen our team!
COVID-19 Vaccine for Children 
Visit the KFL&A Public Health website to book your child's appointment at a local COVID-19 vaccination clinic. 
Click here to read facts about the COVID-19 vaccine and children.
Easy- to-follow Instructions for Video Appointments:
QFHT patients participating in OTN video visits can use this simple how-to guide to download the system on your computer or install the app on your device, so you're ready to go at your e-appointment time with us. (Thanks to Stewart Medicine for this valuable resource.)
PLEASE NOTE: Our telephone lines are open from 9 a.m.–4 p.m. Please contact your receptionist during these times to book an appointment. (*Our offices, both 115 Clarence St. and 220 Bagot St., are closed from noon to 1 p.m.) 
After Hours Care
During the COVID-19 pandemic, the Queen's Family Health Team will not be providing any walk-in appointments in the after-hours clinic. PLEASE DO NOT visit our after-hours clinic in person unless our on-call team has directed you to do so.
Patients who require urgent after-hours care MUST call 613-533-6563 during after hours clinic hours ONLY and leave a message requesting an appointment. The hours are:
Monday-Thursday: 4:45 p.m. to 7:30 p.m.
Saturday: 8:45 a.m. to 11:30 a.m. and 12:45 p.m. to 3:30 p.m.
Sunday: 8:45 a.m. to 11:30 a.m. 
We are only checking messages on this phone line during after-hours clinic hours.
After receiving your message during regular after-hours clinic hours, our nursing staff will call you back for further assessment at their first opportunity. (Please be patient with us. Your return call might not be right away, but we WILL get back to you first chance we get!) Based on the nurses' assessment, you will either be given a telephone (or video) appointment or you will be directed to visit the clinic in person (location: 115 Clarence St.). You may be directed back to your usual physician team if the issue is not best managed in the after hours clinic. 
If you are calling outside after hours clinic hours, The Ministry of Health and Long-Term Care's Telephone Health Advisory Service is available at 1-866-797-0000 Monday to Thursday from 5 p.m. to 9 a.m. and around the clock weekends from 5 p.m. Friday to 9 a.m. Monday. 
BEFORE YOU CONTACT THE AFTER HOURS CLINIC 
▪ Are you a patient of the Queen's Family Health Team?  The after-hours clinic provides care to patients of the Queen's Family Health Team only.
▪ Have you spoken to your home team's receptionist or nurse?  There are times when your daytime physician team clinic can fit you into their clinic.
▪ Have you called the Telephone Health Advisory Service? This service puts you in touch with a registered nurse who can provide after-hours telephone health advice for patients who are enrolled with a family health team. They can be reached at 1-866-553-7205.
▪ Narcotics and controlled prescriptions will not be refilled at the after hours clinic.
▪ If you are in crisis and need immediate mental health care, please go to the nearest emergency department or call the crisis line at 613-544-4229. 
WHO SHOULD USE THE CLINIC? 
If you have new, worrisome symptoms, a sick child, or worsening of a chronic medical condition that you feel cannot wait until a routine appointment with your family physician, you will be assessed. However, your visit in the after hours clinic is not meant to replace the complex and continuing care that your family doctor and home team can provide. Remember, the after hours clinic is meant to provide care to patients of the Queen's Family Health Team for urgent, non-life-threatening problems only. 
THE CLINIC CANNOT HANDLE LIFE-THREATENING EMERGENCIES 
If you have chest pain; you think you are having a stroke; or you have heavy bleeding, fractures, severe allergic reactions or trouble breathing, call 911 immediately or go directly to the nearest emergency department. 
GENERALLY, YOU WILL NOT BE SEEN FOR THE FOLLOWING: 
▪ regular prescription renewals
▪ problems that are best suited for your home team to manage
▪ results of lab tests or procedures
▪ forms to be completed, work notes for absences due to illness (if exception is made, there may be a charge)
▪ requests for referrals, procedures or for appointments with your own doctor.  
If you visit our clinic:
In accordance with a Section 22 order from KFL&A Public Health, all patients who visit our clinic are required to wear a face covering. If you do not have one when you arrive, we will provide you one, and ask that you bring one to your next visit. Read FAQ about face coverings on the KFL&A website here.
Please Note:
* We do not provide back-to-work or school notes for patients who have persistent symptoms related to such things as allergies or asthma. 
New Patient Information
When the Queen's Family Health Team accepts new patients, they are accepted through Health Care Connect. Health Care Connect is a program that will help people without a regular health-care provider find one in their community.  Call: 1-800-445-1822. Visit: www.ontario.ca/healthcareconnect.
---
Current Patient Information
How to book an appointment
Patients can book appointments in person or by telephone. To book an appointment in person, speak to your clinic's receptionist to schedule a convenient time.
If you would like to book an appointment over the telephone, please contact us at 613-533-9303 and follow the telephone prompts.
How to cancel an appointment
If you know you will not be able to attend your scheduled appointment, please contact the clinic at least 24 hours in advance of your scheduled appointment. As per the QFHT FEE SCHEDULE FOR UNINSURED SERVICES, if you miss an appointment without providing 24 hours' notice by telephone, you will not be permitted to book another appointment until you have paid a $10 fee. This fee is payable to your receptionist. If you have forgotten the date and/or time of your scheduled appointment, please call us and we will be happy to remind you.
What to do if you are going to be late
If you are going to be late, it is important to let us know, as your doctor may not be able to see you after the start of your scheduled appointment.
What to bring
A valid health card -

The Ministry of Health and Long-Term Care requires that we verify your health card at each visit (e.g. your OHIP, UHIP or other provincial health card).

Your yellow immunization record (if being administered an immunization or flu shot) - Remember to arrive five to 10 minutes before your scheduled appointment to allow time to complete any forms or to update your record.
Medications -

Please bring in the original containers, particularly if they have been prescribed by someone other than your family doctor (e.g. a specialist). This helps ensure that we have the most up-to-date version of your medication list.
Policy on bringing health card to appointments
The Ministry of Health and Long-Term Care requires each patient to show a valid, up-to-date health card for each and every visit. Your health card is your key to obtaining health care because it contains information about your personal health insurance (e.g. OHIP). Without this number, the Ministry can't reimburse us for the services we provide. It is very important that we have your correct health card number – and, in many cases, the expiration date and version code – updated at each visit. Health cards from other provinces are also acceptable.
If your health card is invalid, please visit your nearest Service Ontario location to get a new card / version number. If your card is invalid at the time of your appointment, you will be charged a $50 fee, as per the QFHT FEE SCHEDULE FOR UNINSURED SERVICES.
If you have a question about your Ontario Health Insurance Plan, if your address or name has changed, or if your card has expired, please visit a Service Ontario site or visit the Ministry's website at http://www.health.gov.on.ca/en/public/programs/ohip/
Prescription renewal
It is good practice to ensure you have all the prescriptions you need when you leave your physician's office, but we understand this doesn't always happen. If you run out of refills before your next appointment, please have your pharmacy fax us a refill request. 
For patients taking prescription narcotics (controlled substances), please note that these will NOT be refilled without an appointment, so it is very important that you book these appointments in advance.
QFHT physician fax numbers can be found here. If you are unsure of the physician to contact, please fax to the main Department of Family Medicine fax number at 613-544-9899.