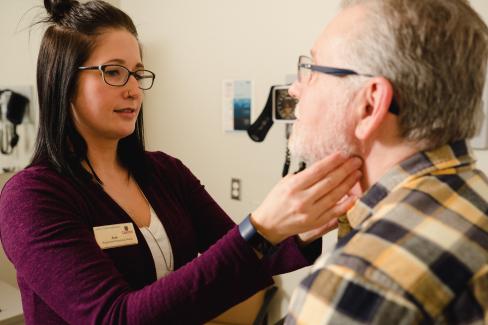 Kingston
211 is an easy-to-remember, toll-free telephone number that congnects callers, in the language of their choice, to the non-emergency social, health, and government services and programs that serve the community. This free, confidential, multilingual service links callers with high-skilled, bilingual information and referral specialists who are trained to direct them to the most appropriate service provider. 211 is available to everyone in our community. It is funded through a partnership that includes the provincial and federal governments, the municipalities and the United Way/Centraide.
AMHS-KFLA is a non-profit private corporation that offers a continuum of services for people with a serious mental-health illness. Programs/services include: crisis lines, addiction services, mental-health supports/services, court support, employment and training, housing services, and a family resource centre.
Better Beginnings for Kingston Children (BBKC) offers programs and supports for families with children from birth to five years living in north Kingston. Programs include prenatal education and support, home visiting, parent-child support groups, parenting programs, and school-readiness programs. All our services are free; assistance with transportation and childcare are provided when needed. BBKC services are available to those who reside North of Princess Street, East of Sir John A MacDonald Boulevard, South of Highway 401, and east of the Cataraqui River.
Ensures 2,000 children in need receive essential winter clothing. Members of the public can sponsor a child by purchasing a new snowsuit, or they can provide funds.
Offers speech and language therapy and counselling for preschool children with speech and language difficulties. Services are available for children from birth until the beginning of their senior kindergarten year.
Administers the Child & Family Services Act, assesses allegations of child neglect and abuse, offers alternative care to children when necessary, and provides guidance, counselling and services to parents
Drop-in centres in rural areas (Napanee & Amherstview) offer free groceries, prenatal vitamins, information and support from a dietitian and public health nurse. Open to pregnany women and mothers with babies up to six months of age in the geographical area.
Individuals can purchase fresh fruits and vegetables for less than it would cost in the grocery store. Products are sold in small, medium, and large boxes.
Home Base Housing is a not-for-profit organization that has provided housing-specific services in Kingston since 1987. Home support is given to individuals aged 16 and over who are homeless, at risk of losing housing, or living in unsafe situations. This program manages a number of safe, affordable housing units, emergency shelters, and support services to meet the needs of individuals at risk.
A community-based cross-disability not-for-profit organization that promotes inclusion and full participation in the community for persons with disabilities. Programs/services include access to employment , peer support, computer training, access to technology, and access to Kingston Online - a guide to accessible buildings & services in Kingston.
Kingston, Frontenac and Lennox & Addington (KFL&A) Public Health works together with our communities to promote and protect the public's health. Our commitment is to provide public health programs and services of the highest quality. We are an accredited organization of over 225 staff and 150 volunteers who deliver mandatory health programs and services set by the Province of Ontario in the Health Protection and Promotion Act. The underlying goal of our programs and services – from nutrition and food safety, raising healthy babies and children, sexual health, smoking cessation, and many other public health areas – is to promote and protect the health of the more than 180,000 residents of Kingston, Frontenac, and Lennox & Addington.
Emergency shelter for abused women (16 years and older) and their children. 24-hour crisis support line.
This program offers free, confidential pregnancy testing; counselling and support; information and referrals for adoption; post-abortion support and counselling; and education resources on sexually transmitted infections. Eligibility: women who are pregnant and in need of support.
Martha's Table provides low-cost, nutritious meals to those in need, in a safe environment. Volunteers prepare and serve meals Monday to Friday in a restaurant-style setting for $1. There is also a Friendship Room, which is a relaxing and comfortable space that is open to those in need, offering a telephone, computers, restrooms, breakfast and lunch, art and other activities.
Monetary and food donations help to nourish local families in need by providing groceries through a food hamper program. This program donates surplus provisions to 16 local hot meal and shelter programs in the Kingston area. It also provides non-perishable food items and fresh foods such as milk, eggs, fruits, and vegetables to its clients.
Provides individualized assessment, intervention, consultation, and case-management services. Interventions may be any combination of individual, parent, family, and group counselling. Intensive services include in-home and in-community interventions and therapeutic classrooms. Resource services include psychiatry, psychology, and behaviour pediatric consultations. As lead agency in providing regional autism services, we provide Intensive Behavioral Intervention (IBI) and school support services. Pathways services children from birth to age 18.
Resolve Counselling Services  is a not-for-profit agency governed by a volunteer board of directors. Funding comes from a variety of sources, which allows us offer professional counselling at an affordable cost or for certain programs, no cost. Services include Counselling & Community Services (Individual & Family Counselling), Credit & Financial Counselling Services, Consulting & Education Services, and Employee Counselling Services (FSEAP).
This program provides food, housing, and assistance to individuals who have low income and reside in the Greater Kingston area. Programs include emergency assistance (food, clothing, or furniture), housing and homelessness help programs, a supervised child access program, summer camps, after-school program, family tracing, pastoral care, Christmas hampers, a toy drive, and a Gathering Place drop-in and meal program.
The Street Health Centre is a 365-days-a-year harm-reduction health centre specializing in providing accessible health services to individuals needing support. Services are for people who use injection, inhalant, and illicit drugs; those involved in the sex trade; high-risk youth; the homeless; and people recently released from incarceration. Professionals comprise nurse practitioners, registered nurses, doctors, counsellors, an Indigenous elder, and support workers. 
Provincial & National
On this site, you'll find information about the Alzheimer Society, Alzheimer's disease and related dementias, caregiving, research, news, events, and more.
The Canadian Cancer Society helps you take control of your health. Through our Cancer Information Service, and a wide selection of publications, we offer up-to-date, accessible, and credible information hat empowers you to make good decisions when it comes to your health.
The Canadian Diabetes Association provides resources for multidisciplinary diabetes health-care providers and researchers, including practical applications for professional education and research, as well as references to inform and guide best practices for the care of people with diabetes in Canada.
Seeks to develop and provide public policy advice that promotes mental health and improves the lives of people living with mental illness.
Cancer Care Ontario is the provincial agency responsible for continually improving cancer services. As the government's cancer advisor, Cancer Care Ontario uses electronic information and technology to support health professionals and patient self-care and to continually improve the safety, quality, efficiency, accessibility, and accountability of cancer services.
Developmental Services Ontario can help adults with developmental disabilities find services and supports in their community. Individuals can apply for the Passport funding program as well.Health Canada
Health Canada is the federal department responsible for helping Canadians maintain and improve their health, while respecting individual choices and circumstances.
Good oral health is important to kids' overall health. Yet, for some, regular dental care may not be affordable. Healthy Smiles Ontario is a program for kids 17 and younger who do not have access to any form of dental coverage. If eligible, your kids will get regular dental services at no cost to you.
The Heart and Stoke Foundation of Ontario is a source of information about stroke, heart disease, and healthy living. It also provides heart-healthy recipes, nutrition, and physical activity tips to help you learn how you can reduce your risk of heart disease and stroke, make healthy food choices and get active
This program offers financial assistance to individuals on long-term disability and their family. Assistance is provided for essential living expenses; medical prescriptions; and dental and vision care. 
Ontario Early Years Centres are places where parents and caregivers can take part with their children in a range of programs and activities; get answers to questions; get information about programs and services available for young children and their families; and talk to early years professionals and other parents and caregivers in the community.
The Ministry of Health and Long-Term Care is working to establish a patient-focused, results-driven, integrated and sustainable publicly funded health system. Its plan for building a sustainable public health-care system in Ontario is based on helping people stay healthy, delivering good care when people need it, and protecting the health system for future generations.
Ontario Works helps people in financial need. It offers financial assistance that includes income support and costs associated with basic needs (food, shelter, etc.); medication prescriptions; dental funding and vision care; and work-related supports.
To promote and protect the health of Canadians through leadership, partnership, innovation, and action in public health.
The City of Kingston is the service manager for the administration of social housing programs and affordable housing initiatives in Kingston and Frontenac County. The City oversees the local social housing portfolio governed by Ontario's Housing Services Act, 2011. This includes:
2,003 rent-geared-to-income households;
1,368 high-need households;
74 units accessible to those with disabilities.