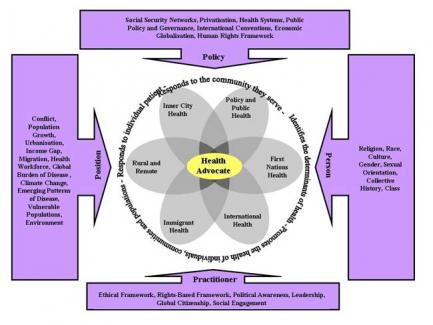 Global Health, a definition:
"Global health is an area for study, research, and practice that places a priority on improving health and achieving equity in health for all people worldwide. Global health emphasizes transnational health issues, determinants, and solutions; involves many disciplines within and beyond the health sciences and promotes interdisciplinary collaboration; and is a synthesis of population-based prevention with individual-level clinical care."
Koplan et al. 2009. Towards a Common Definition of Global Health. The Lancet 373: 1993-1995
Why Global Health?
Humanity faces national and international crises which will have significant impacts on population health, including climate change and the global economic crisis. These and other impending crises (population, food, and energy) will place increasing burdens on healthcare systems, increase the already-huge gap between the rich and the poor within and among nations, potentially lead to increases in global conflict, and modify global patterns of migration and disease. 
As the Lancet definition states, Global Health seeks to improve health and to achieve equity in health for all people worldwide. Surely, this is the goal of every Family Physician.
A Curriculum Framework for Global Health: 
Family Physician as Health Advocate
The CFPC states that "as Health Advocates, family physicians responsibly use their expertise and influence to advance the health and well-being of individual patients, communities, and populations". Within this role description, "family physicians recognize their duty and ability to improve the overall health of their patients and the society they serve…health advocacy is appropriately expressed both by the actions of individual family physicians and through collective actions with other health professionals in influencing population health and public policy".
Thus, at the Queen's Department of Family Medicine, we have chosen to use the CanMEDS-FM role of Health Advocate as the framework for the Global Health Curriculum. 
While much of the CanMEDS-FM definition relates to the specific practice population of a given physician, in teaching Global Health, we seek to extend this role to its broadest possible definition, that of health advocacy at the level of populations, primarily underserved and vulnerable populations, wherever they may be. Likewise, when conceptualising "health advocacy", we do so in the most comprehensive sense. Advocacy must be around all determinants of health including but not limited to gender, local and global economics, culture, immigration status, place of birth, membership of a particular social, political or religious group, access to resources (economic, food, health or other), environment as well as psychological and biological determinants of health.
Residents complete the Global Health online modules during their first year of residency. A Global Health academic day will provide additional core curriculum content. Residents planning overseas electives will participate in a pre-departure preparation curriculum to prepare them for the experiences they may face overseas. Other residents engaged in Global Health electives/selectives are welcome to participate as well. In addition, residents are encouraged to seek out their own learning opportunities in Global Health including clinical work, research, or conferences. Residents are also welcome to contact their academic advisors or the chair of the Global Health Working Group if they have particular Global Health interests.