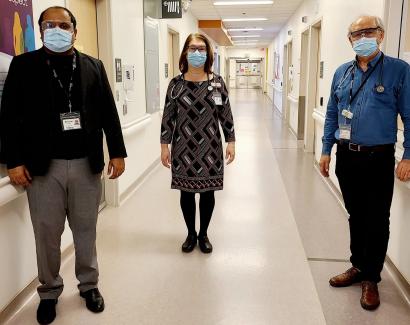 The Division of Hospital Medicine is a collaboration between Queen's Department of Family Medicine (DFM), the Southeastern Ontario Academic Medical Organization (SEAMO), and Providence Care Hospital. Providence Care is Southeastern Ontario's leading provider of specialized care in aging, mental health, and rehabilitation.
Established as Canada's first academic division of hospital medicine in 2019, this division brings together three disparate services into a single, unified program. Its primary goals are enhancing patient care, improving physician wellness, training future hospitalists, and raising awareness about hospital medicine.
Under the leadership of Dr. Ammar Rashid, Division of Hospital Medicine Chair, it is the largest care-providing division at Providence Care Hospital. Launching with 11 hospitalists supporting care across 230 hospital beds, the division continues to grow. (We are currently seeking academic and locum family physician hospitalists to join our team.  Please click here to read about these career opportunities.)
The division's hospitalists play a key role at Providence Transitional Care Centre (PTCC), which began a gradual opening to patients in October 2021. This 64-bed facility will address gaps in restorative and specialized care for older adults, offering inpatient services designed to promote and preserve wellness and functionality. The centre will serve as a teaching site for Queen's Health Sciences and for St. Lawrence College programs. (Department of Family Medicine residents and undergraduate medical students currently regularly participate in electives the division offers, and a PGY3 enhanced skills fellowship program is being created for DFM graduates.)  
A stroke hospitalist will also soon be added to Providence Care Hospital's rehabilitation program.  
The Division of Hospital Medicine has been instrumental in Providence Care Hospital's response to the COVID-19 pandemic, collaborating with regional acute-care hospitals in enhancing capacity. The division's hospitalists have provided care for additional patients in on-unit unconventional spaces, helping generate much-needed ICU capacity in the region's fight against the pandemic.
In recognition of its excellent work in maintaining high-quality medical care 24/7, this division was nominated for Providence Care's Leading with Excellence Achievement Award in 2021.
*Photo: Dr. Ammar Rashid, Division of Hospital Medicine Chair; Dr. Jane Philpott, Dean, Queen's Faculty of Health Sciences; and Dr. Greg Patey, hospitalist, at Providence Care Hospital.