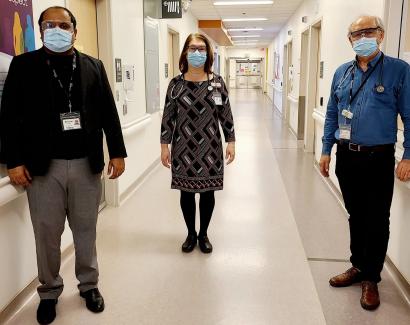 The Division of Hospital Medicine is a collaboration between the Queen's Department of Family Medicine, the Southeastern Ontario Academic Medical Organization (SEAMO), and Providence Care Hospital. Providence Care is Southeastern Ontario's leading provider of specialized care in aging, mental health, and rehabilitation.
Established as Canada's first academic division of hospital medicine in 2019, our primary goals are enhancing patient care, improving physician wellness, training future hospitalists, and raising awareness about hospital medicine.
Under the leadership of Dr. Ammar Rashid, Inaugural Division of Hospital Medicine Chair, it is the largest care-providing division at Providence Care, with 10 FTE hospitalists supporting care across 264 hospital beds at Providence Care Hospital and Providence Transitional Care Centre. (We are actively seeking locum and regular family physician hospitalists to join our team.  Please visit our website's Careers page to learn more.)
The division serves as a teaching site for Queen's Health Sciences and St. Lawrence College programs. (Queen's Family Medicine residents and undergraduate medical students regularly participate in electives the division offers.) The division launched its academic journey by establishing the Complex Medical Teaching Unit (CMTU), an academic rotation of the Complex Medical Management program. The CMTU offers residents and medical students the opportunity to develop necessary skills to deliver high-quality, patient-centred hospital medicine care in a sub-acute care environment. To date, 158 learners have flowed through its doors (2020-2023).
Our goal for the division is to establish the PGY-3 Fellowship Program for Queen's Family Medicine graduates. The program design and curriculum have been finalized, and will be launched when adequate funding has been secured.
The Division of Hospital Medicine was instrumental in Providence Care Hospital's response to the COVID-19 pandemic, collaborating with regional acute-care hospitals in enhancing capacity. Our hospitalists provided care for additional patients in on-unit unconventional spaces, helping generate much-needed ICU capacity in the region's fight against the pandemic.
In recognition of its excellent work in maintaining high-quality medical care 24/7, this division was nominated for Providence Care's Leading with Excellence Achievement Award in 2021.
In 2022, Dr. Rashid received the College of Family Physicians of Canada Award of Excellence in recognition of his contributions in creating our robust hospitalist team. He dedicates this award to all the division members, as it is a testament to their combined efforts.
*Photo: Dr. Ammar Rashid, Division of Hospital Medicine Chair; Dr. Jane Philpott, Dean, Queen's Health Sciences; and (retired) Dr. Greg Patey, hospitalist, at Providence Care Hospital.