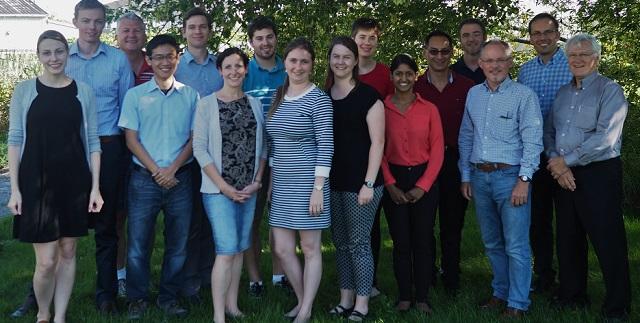 Program Vision and Overview
Vision statement
2016 Queen's PHPM Retreat, Prince Edward County. Photo credit: Dr. Samantha Buttemer
The Public Health and Preventive Medicine Program at Queen's University trains physicians to be innovative and highly competent practitioners in public health for Ontario and beyond. The program strives for excellence in training and creative thinking in the specialists that it produces.
Grounded in the strong academic programs at Queen's University (Queen's Department of Family Medicine and Queen's Department of Public Health Sciences), and having strong practice settings at local public health agencies (KFL&A Public Health; Leeds, Grenville and Lanark District Health Unit; Hastings & Prince Edward Public Health; and Peterborough Public Health) and national and provincial public health agencies (Public Health Agency of Canada and Public Health Ontario), the program provides comprehensive, high-quality education that allow graduates to excel at the local, provincial and national levels. Through elective time, the program is flexible, allowing trainees to pursue experiences of interest to them, such as expertise in international public health or other special interests in Public Health and Preventive Medicine.
Overview
The Public Health and Preventive Medicine (PHPM) curriculum is designed to be flexible to meet your needs as a resident. We do our best to accommodate your specific interests during your clinical years (PGY1 and PGY2), during your academic year (PGY3), and during your Public Health consolidation years (PGY4 and PGY5).
In addition to your clinical rotations, you will attend a weekly academic half-day session during all five years. These sessions are an opportunity to encourage personal, professional and scholarly development. Sessions include: special lectures, journal clubs, writing seminars, communication skills, exam practice and similar activities. Arrangements can be made for you to attend these sessions via teleconference if you are off-site. There are also opportunities for shared teaching with the Department of Family Medicine and other PHPM programs in Canada.
Sample Queen's PHPM rotation schedule
Please note that rotation schedules vary considerably based on a resident's interests and past experiences. This is only an example.