Principal Investigators: Dr. Linden Crowshoe and Dr. Michael Green
Co-Investigators: Dr. Rita Henderson, Dr. Kristen Jacklin, Dr. Betty Calam, Dr. Leah Walker, Dr. Ellen Toth, Dr. Han Han
Educating for Equity (E4E): Indigenous Patient Empowerment through Critical Education of Patients and Physicians in Addressing Social Pathways to Diabetes has been awarded $952,425 over 5 years through the CIHR Project Grant program, from April 2018 to March 2023. The project team is led by Dr. Linden Crowshoe (University of Calgary) and Dr. Michael Green (Queen's University) and also includes investigators from the University of British Columbia, the University of Calgary, the University of Minnesota and Queen's University.
This project is an extension of the "Educating for Equity" (E4E) CIHR International Collaborative Indigenous Health Research Team grant (2010-2016), in which the E4E Canada team used a rigorous research approach to develop and test the use of an E4E Care Framework © to assist physicians in their care of Indigenous patients with diabetes. The E4E Care Framework© was very well received by physicians and has been pilot tested in family medicine settings in Northern Ontario.
The new E4E project will explore the potential to apply the E4E Care Framework© to educational programs for healthcare professionals and the Indigenous patients. The research team is developing E4E Indigenous patient educational pedagogy through a series of realist reviews on the issues that phenomenally impact Indigenous health—racism, obesity, and diabetes. Topics and themes out of the realist reviews will be examined through the lens of the E4E Care Framework© before being translated into educational programs.
A mixed-method, multi-measure, controlled design will be used to evaluate the E4E Critical Education intervention to both Indigenous patients and physicians. Data collection includes patient chart audits, patient experience surveys and patient interviews. Primary outcomes include HbAIC and a summary patient experience score. Chart reviews prior to and post intervention will indicate impact of E4E Critical Education on clinical outcomes. Patient surveys and interviews will reflect changes in patient self-empowerment and in physician care delivery. Dr. Michael Green of Queen's Family Medicine and the Centre for Studies in Primary Care (CSPC) will contribute to the development and evaluation of E4E patient critical education.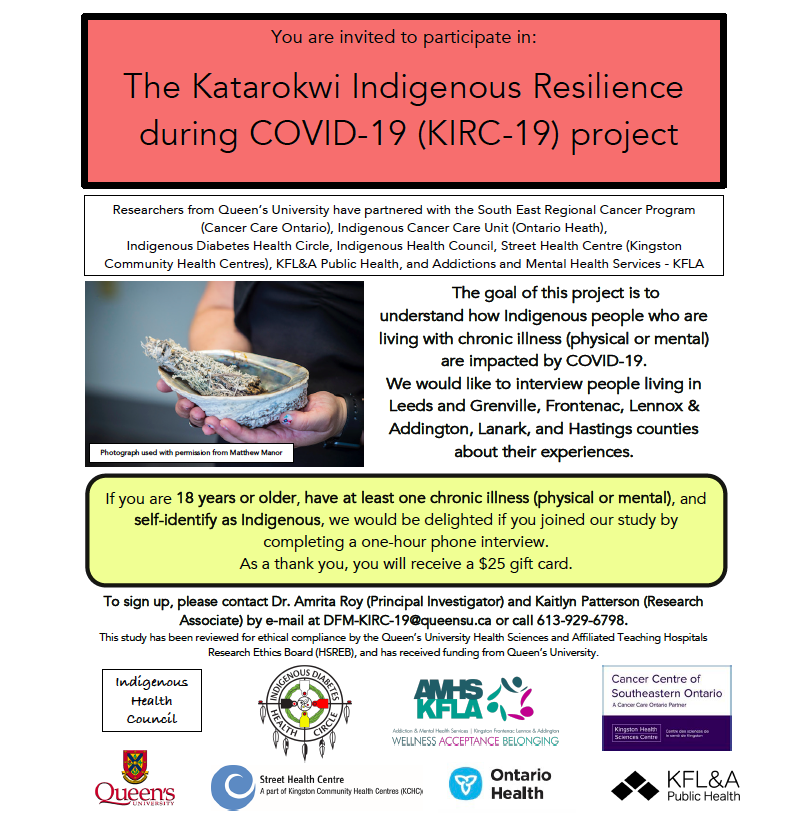 Researchers from Queen's University have partnered with the South East Regional Cancer Program (Cancer Care Ontario), the Indigenous Cancer Care Unit (Ontario Health), the Indigenous Diabetes Health Circle, the Indigenous Health Council, KFL&A Public Health, Street Health Centre (Kingston Community Health Centres), and Addictions and Mental Health Services - KFLA.
The goal of this project is to understand how Indigenous people who are living with chronic illness (physical or mental) are impacted by COVID-19. We would like to interview people living in Leeds and Grenville, Frontenac, Lennox & Addington, Lanark, and Hastings counties about their experiences.
Who can join? If you are 18 years or older, have at least one chronic illness (physical or mental), and self-identify as Indigenous, we would be delighted if you joined our study by completing a one-hour phone interview. As a thank you, you will receive a $25 gift card.
Interested in participating? Contact Dr. Amrita Roy (Principal Investigator) and Kaitlyn Patterson (Research Associate): E-mail: DFM-KIRC-19@queensu.ca Telephone: 613-929-6798

Check out their facebook page here: Katarokwi Indigenous Resilience during Covid-19 | Facebook