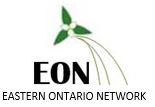 The Eastern Ontario Network (EON), the Department of Family Medicine's Practice Based Research Network (PBRN) is a network of over 150 primary care providers in practice at 14 clinics in eastern Ontario. The network is a multidisciplinary collaboration between primary care providers and researchers to answer important healthcare questions and translate findings into practice. While originally founded as one of 11 networks across Canada that comprise the CPCSSN project, the EON has since developed into an independent PBRN with a goal to leverage electronic medical record data to transform primary care through cutting-edge research that impacts patient care and management.
EON collects data on over 150,000 patients in the Eastern Ontario region. The de-identified data is used for research and quality improvement, which is integral to improving the efficiency of Ontario's health-care system and increasing the quality of care to its residents. We are also engaged with several clinics in the community to help them use the information housed within their EMRs in a meaningful way that helps their patients.
To learn more about the collaboration of networks across Canada - visit the web site at: http://cpcssn.ca/.